Having learned a long time ago not to trade in front of the news, it always nice to capture some pips when the reversal occurs. As long as the signals are clear – as was the case overnight with the EUR… one can capture the safer move.
The GBP news can affect the EUR as it did overnight. The reverse is also true. If the sentiment for the Eurozone is negative, the GBP typically is sold off too. Last night, traders were awaiting some news before entering the market. A very fast move to the upside was unsustainable as is evidenced by the wicky bearish candle and price not closing above our Target 1. After an hour of consolidation and lower highs, a trade short is taken. Price falls, makes a big move toward the Asian session low and then reverses. Having been up 60 pips, we place our take profit at plus 50 pips and we are closed.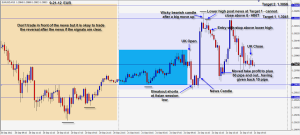 It's been a tricky week to find trades, but it has also been a rewarding week when we did.
Let's see what next week brings us.
Back Tuesday.
Enjoy your weekend!