September is here and volumes will pick up considerably. Hopefully by next week clearer trade setups will become much more frequent again.
The EUR looked good overnight, but it took a while to set up. With a 3:1 Reward to Risk ratio minimum, a trade entry long was found with a stop just below the "higher low". As the trade progressed the stop is moved up and quickly hit our targets.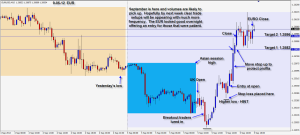 Hopefully tonight will offer more opportunity to trade. Friday night before the US Non-Farm Payroll is not a good time to trade – in my experience.
See you back tomorrow.
Good luck trading!