It's always nice to end the week with one more positive trade. The EUR set up beautifully for us overnight. When price got going, it not only blew through the Asian session low, it took out both targets 1 and 2 in quick order. September has been a very good month and summer seems like long ago.
The EUR trade setup overnight is a favourite of mine, and one I train my students to look for each session. When you find this setup, the rewards can be very satisfying. This trade met our criteria to the letter and the pips followed.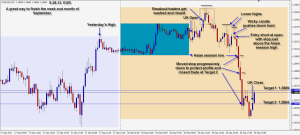 Enjoy your weekend!
Let's see what October brings…back Tuesday.