The Asian session range was larger than usual. No significant news was pending during the UK session for either the EUR or GBP but ECB President Draghi was scheduled to speak later in the session.
The UK session began with some choppy sideways price action before putting in a higher low. We enter long with a stop just below the Asian session low… giving us a reward to risk of 4:1 to our Target 2. We anticipate a run up to test the Asian session high before moving to our Target 1 which was a significant area of resistance yesterday – as price collapsed down from there.
Price reaches the Asian session high and closes above it. The next candle is a wicky candle which takes us to President Draghi's pending speech. We close the trade and are happy to take the round number of 50 pips. Do not trade in front of major news events and if you are in a trade… tighten your stops!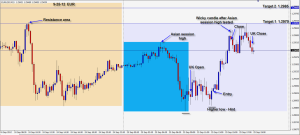 We are off to a good start this week.
Good luck with your trading!