Very difficult to find a trade setup to take overnight. The EUR has been a little more active than the GBP this week but I could not find a safe entry. Some sessions the trade setups are simply not there and it's better to avoid trading.
The EUR dropped very quickly in the US session. I never chase trades as it compromises the Reward to Risk ratio.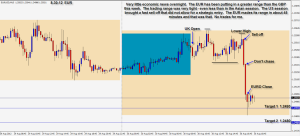 September will bring more volume back into the markets
I will be travelling tomorrow.
See you Tuesday.
Enjoy your weekend.