Be very careful trading the balance of this week. The overnight session left me on the sidelines as the stop losses that would have been required for a trade were too large for me. Never rush into trades…plan them carefully and execute your plan. If the market is erratic due to lots of pending signifcant news – be extra careful.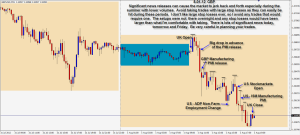 Be very cautious for the remainder of this week.
Be disciplined and patient!!!
Questions are always welcomed.