A very quiet UK session until the US economic news approached giving a little life to the markets. This GBP trade setup looked good following 4 candles with long lower wicks, (implying a bottoming) a bullish candle brought price off the session low pushing it back into the Asian range to close. An entry long is taken with an intial stop just below the swing low, with a Reward to Risk of greater than 3:1 ( to our targets) at the opening of the next candle. Price consolidated moving between the middle and top of the Asian session range before finally breaking above, then retesting the Asian session high once again. By moving the stop loss up, risk is removed from the trade, and profits and protected. The trade is closed at the US open in advance of the news. Always be aware of major news releases and tighten stops or take your profits.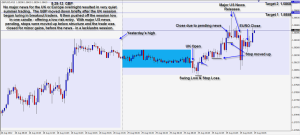 Let's hope for a little more action tonight.
I have an appointment tomorrow right after the UK session closes, so my posting may be up later in the day.
Good trading!