The EUR made a classic pattern overnight. This is a favourite setup and occurs with great frequency in the GBP and EUR. Study this pattern closely and watch for it! There are variations to it and nuances that I teach, but this one pattern can make a trader a lot of money over time! Money management is essential, with the correct reward to risk ratio of 3:1 or higher.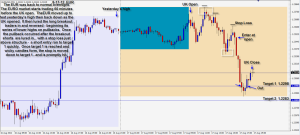 The week went by without a single GBP trade setup with any appeal. The end results were fine despite it being a very slow summer holiday period.
Let's see what next week brings…
Enjoy the weekend.
Questions are always welcomed. Michael@privateforexcoaching.com
See you back Tuesday.
Michael