The GBP yesterday had another higher swing low and today's high took out Wednesday's swing high.
Breakout traders were stopped out and an entry long presented itself. Although the GBP didn't make it to my first target, it had offered enough pips in advance of the US news to take a nice profit and avoid event risk. Take what the market offers and don't be greedy. Keep your Reward to Risk ratio in mind. Don't try to squeeze out a few more pips in front of major news releases.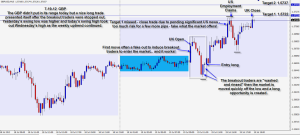 Let's see what tomorrow brings to close the week out.
Good luck!
Michael