The EUR offered a nice short setup overnight. Plan your trades – never chase a trade and wait for your setup. If you concentrate on a few pairs and get to know their patterns, you will find reoccurring setups appear most sessions. If the setup is evident and meets your rules with a valid reward to risk ratio – you are risking very little per trade…should it move against you.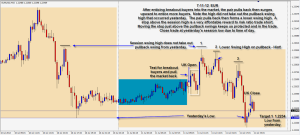 Learn the criteria for high probability trading!
Let's see if the trading ranges pick up for Thursday and Friday…
Good luck with your trades!
Questions are always welcomed!
Michael