There was some encouraging economic news for the UK overnight, but a trade setup for a GBP short followed – for those that were patient.
An issue that arises for traders is… we have other obligations and need to leave our trading desks. I had not reached my target by the time I needed to go out today, so I had a decision to make. Do I take my profits now or tighten up my stop and hope that the market will move down to my target? It's never a good idea to get greedy. There's an old Wall Street adage that goes…"pigs get fat but hogs get slaughtered". I did not want to risk more pips than I was still trying to gain, so I closed the trade. If you've made money with a good trade and have to go out – take your profits or use a really tight stop to avoid giving it back. The market will always be there tomorrow.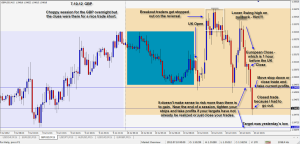 With the first 2 days of the week having tighter ranges than usual, look for a more active market as the week continues. Be patient and only trade when the setups present themselves.
Good luck in your trading!
Questions are always welcomed!
Michael