The GBP gave another very familiar setup overnight. If trading could only be this easy everyday… This is why it's best to concentrate only on the majors in my opinion and get to know the nuances of their movement. Exotic pairs trade differently from the majors and there are plenty of pips to be made only trading the majors – which are also much safer, more liquid and less erratic.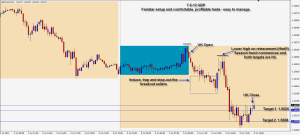 Tomorrow is Non Farm Employment Change also known as NFP Friday – best to avoid trading.
Enjoy the weekend.
Questions are welcomed.
Great trading!
Michael