The GBP had a very familiar setup overnight. This trade setup occurs with great frequency. Train your eyes to look for it and you will be rewarded. Spend some time going back over charts and you will see it many times!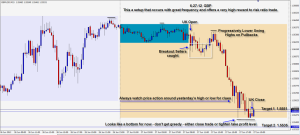 Please check out other chart examples for other forex tips and tricks…
Your questions are welcomed.
Great trading!