The USD was weak today after the disappointing building permits release early in the U.S. session.  The market is sensitive to weak U.S. numbers, as it attempts to weigh the odds of 3 rate hikes in the U.S. this year.  June is the expected next rate increase and whether or not there will be a third late in the year or earlier – possibly followed by a fourth is yet to be priced in.
The gloom overshadowing Europe at the beginning of the year has largely be alleviated by the Dutch and French election results and better economic outlook than we would have had otherwise.
Today after the U.S. news, we waited for a convincing candle to go short and found our entry requiring a 14 pip stop loss for a potential 53 pips to our daily target.  As the USD remained on its back foot the USDJPY moved lower and bounced at the 113.00 figure.  With buyers entering below, we moved our profit stop down and the trade was closed at 113.04.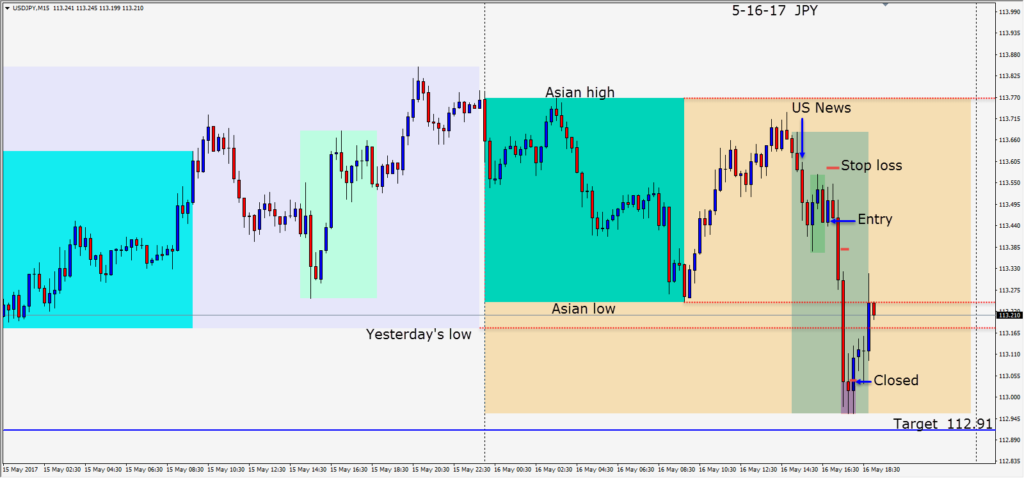 I continue to keep an eye on the EURGBP – especially  when the EURUSD and GBPUSD move in opposite directions.
I have taken the last 2 weeks off from postings due to time constraints, but I'm back and will be active when I find high probability setups.
Good luck with your trading!