Got a little bit behind yesterday as I ran into some tech issues.  I will start with today's trade in the NZDUSD.
The NZDUSD has actually been a beautifully upward trending pair.  Gov. Wheeler speech has thrown some cold water on it – as there may not be an interest rate increase until 2019.  Many have commented on the NZD as being overvalued for some time, but we all know that doesn't mean it can't go higher.  After Gov. Wheeler's comments the pair came down and as it topped out early in the U.S. session, a short was taken requiring a very small stop loss.  The pair dropped immediately and closed below its Asian low and the next candle went through our Target at .7182 where we exited as it came back up.  Overall a very quick and simple trade thanks to a sudden uniform move of USD strength.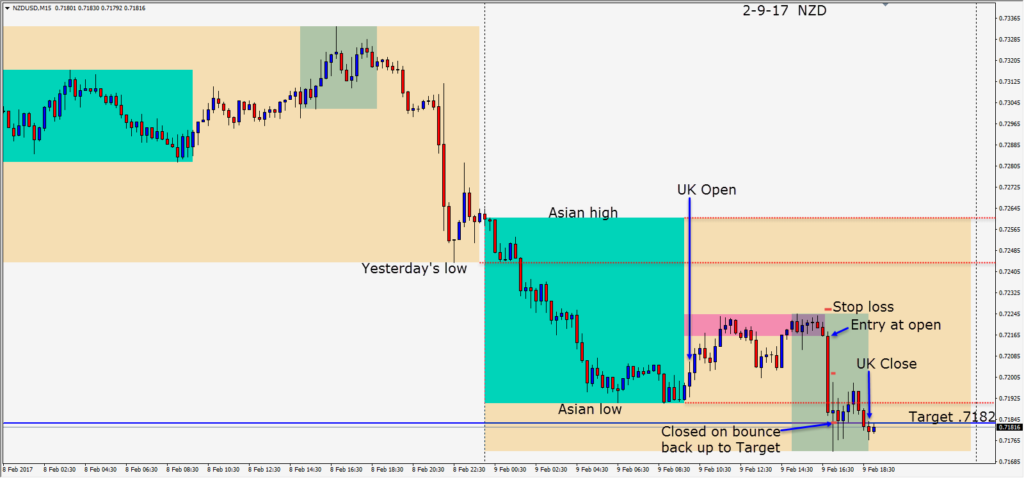 On Wednesday, despite the Nikkei having a good day, a "risk off" sentiment trickled through European, U.K. and U.S. equity markets.  As the JPY formed a third lower high for the day…a near triple-top is formed and an entry short is taken.  Price moved down, closed and retested its Asian low before taking us out at our profit stop.
There is growing political uncertainty (risk) as previously mentioned in Europe.  Adding to the issues is Greece (again).  Coupled with elections in Greece which could complicate provisions for further financial support, is also a large EUR 10.5 billion payment due this summer.  If you remember when this happened a couple of years ago, it wasn't difficult to find EUR short setups.
The GBP keeps selling off but this too shall pass.  If anything, this year I'm searching for long entries in the GBP once it starts to reverse.  Another pair to consider is shorting the EURGBP when this starts to happen.
In the meantime, let's hope it becomes clearer what President Trump's fiscal policies are so we can look for trends to develop again.
Good luck with your trading!