It's not surprising to see equity markets take some profits on a Friday.  With USD strength rather muted this week, and a "risk off " sentiment going into the weekend, the USDJPY looked like a good short candidate.  Price had moved down through 113.00 yesterday and made a series of 3 lower highs durning the Asian session.  Would we see 112.00 today?
As the U.K. session got underway, price made no attempt to rise… it  moved sideways for the first hour of trading hovering just above its Asian lows. The pair then broke to the downside and an entry short was taken.  This allowed for an 18 pip stop loss and a potential 36 pips to our Target.  With ranges having been subdued this week as traders awaited the FOMC statement on Wednesday, there has been potential for large moves since.
When price moved down further, we removed the risk from the trade and waited to see if price would continue to our Target.  As price continued lower, we began to lock in profit as we approached the U.S. overlap part of the session.  Price continued a bit lower as the U.S. session got underway before reversing upward in advance of President Trump's speech.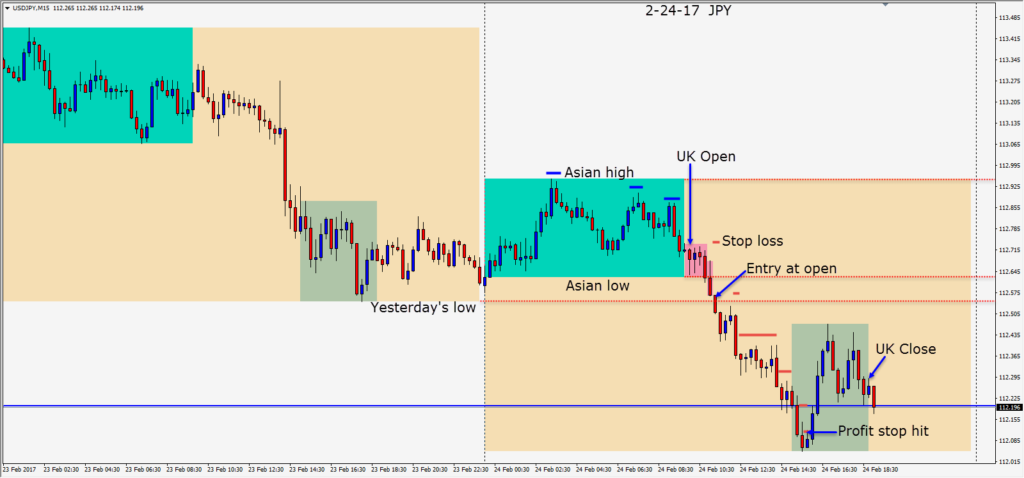 I read an interesting note yesterday that insiders were selling 5.5 times as many shares as they are currently buying.  It's no surprise that with a 15% jump since the U.S election that some profits are being taken.   Be careful out there.
The big economic picture at the moment remains as clear as mud.  Trade what you see.
Enjoy your weekend!