This could have been a subdued session while traders awaited Janet Yellen's testimony for hints of a December rate hike.
The USDJPY has been moving nicely upward since the election as it heads for a test of 110.00.  As it made higher lows today, an entry is taken risking 23 pips for a potential 70 pips to our daily target at 109.82  We moved the stop loss up as the U.S. session gets underway with the pending unemployment release to be followed by Yellen's testimony on the economic outlook.  Price jumped up after the favorable unemployment number and not wanting to give back too many pips we tightened the profit stop and get taken out.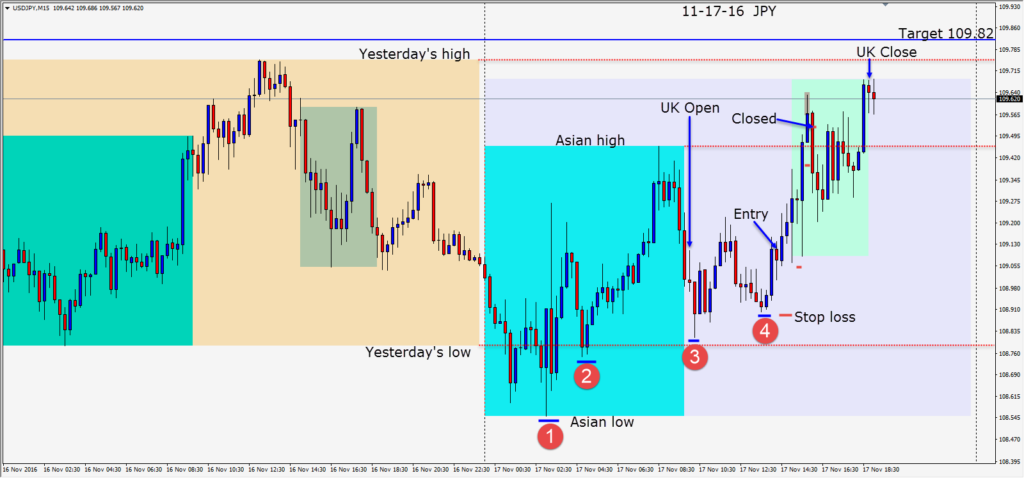 I'm including a nice AUD trade from yesterday that one of my former students sent me.  I missed this setup, but he didn't.  He executed and closed exactly at the Target price.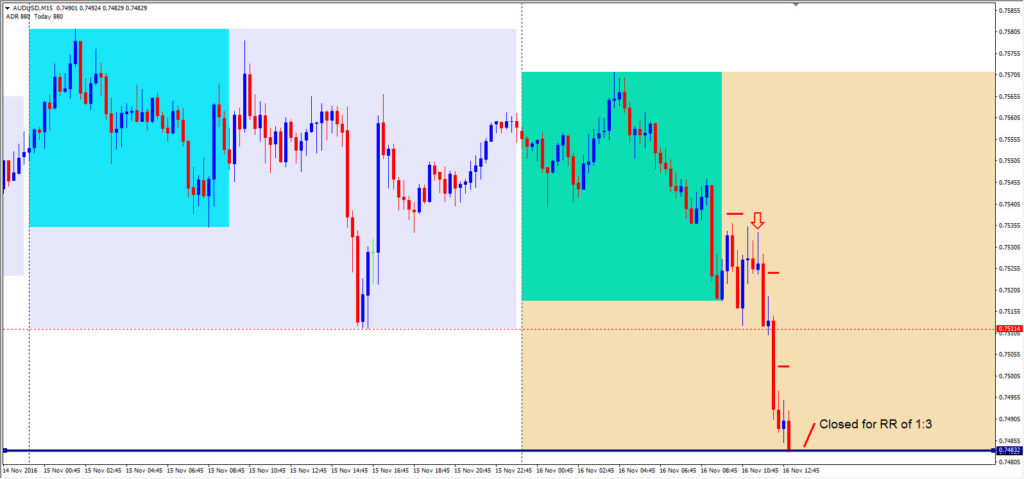 Trading Tip:  T O P an acronym for  Target Price, Obstacles, Plan
Before you enter a trade,you must know what your Target Price is, so you can determine what your Risk is for the amount of Reward.  Intraday trading will be much different than position trading.
Determine what Obstacles are in the way of you getting to your Target.  There can be a number of factors, for example, yesterday's high/low, Asian session high/low, pending news, 100 levels known as the figures, previous support and resistance levels etc.
Plan or Trading Plan which of course are your trading rules which are the foundation of every successful trader's arsenal.  All successful traders have a compilation of trading rules that work for them.  The extremely successful Chicago billionaire trader Richard Dennis is quoted as saying: " I always say that you could publish my trading rules in the newspaper and no one would follow them.  The key is consistency and discipline. Almost anybody can make up a list of rules that are 80% as good as what we taught our people.  What they couldn't do is give them the confidence to stick to those rules even when things are going bad."
Good luck with your trading!