With the U.S. election finally out of the way, the market has new areas to focus on.  Europe is not looking very promising as we move forward into the next few months.  The charts are telling the same story and any opportunities to short the EUR with an appropriate reward to risk ratio will be an obvious choice.
As the U.K. session got underway today, price moved higher before forming a nice reversal pattern.  Risking 23 pips for a potential 101 pips to our target, we went short.  It wasn't all smooth sailing though as it took awhile before price closed below its Asian high and moved lower. Protecting ourselves as the trade moved down, we kept locking in profit until price looked like it was reversing and we closed the position for a nice gain as price rose up to retest its Asian low.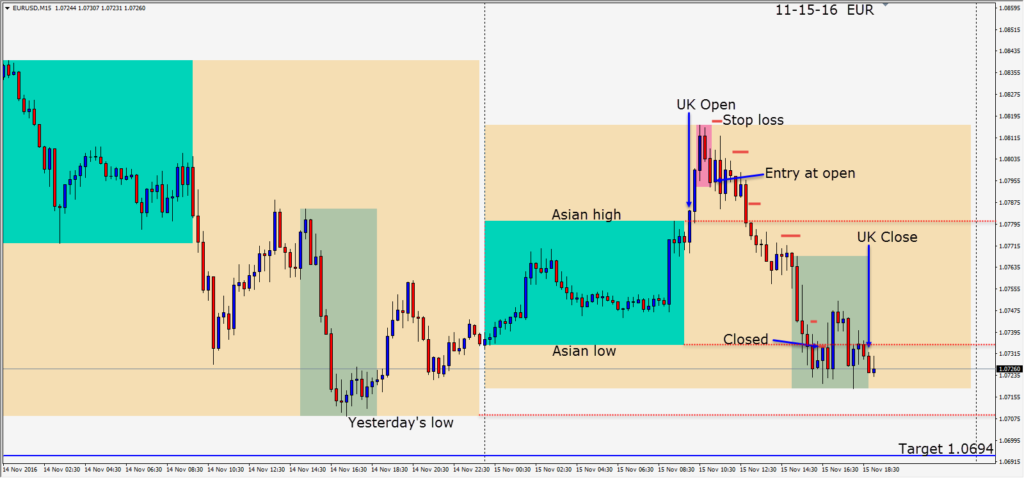 Trading Tip:  No matter how strongly you feel about the direction of a trade, be flexible to the possibility that you may be wrong.  Remember the market doesn't even know that you exist or for that matter even care.  I can list a number of fundamental reasons why my current preference is to short the Euro, but if the market technicals don't tell the same story, then there is no point in shorting it.  At the moment, fundamentals and technicals agree.  In trading you must be flexible and be willing to admit at what price you may be wrong.  I had a mentor say to me years ago, " do your analysis, take the trade and if the market doesn't do what it's suppose to do…get out!"  Remember that with the proper "reward to risk ratio" setups, we don't have to be right all the time…we just have to be right more often than being wrong.
Good luck with your trading!