As the new week began the EURUSD moved up early in the Asian session before going sideways into the UK Open.  A brief move up was followed by a strong bearish reversal in the first hour of London trading.  A short is taken with a 16 pips stop loss for a potential 61 pips to our Target.  This a familiar pattern and with the Asian low coupled with our Target price, we exited once price touched it.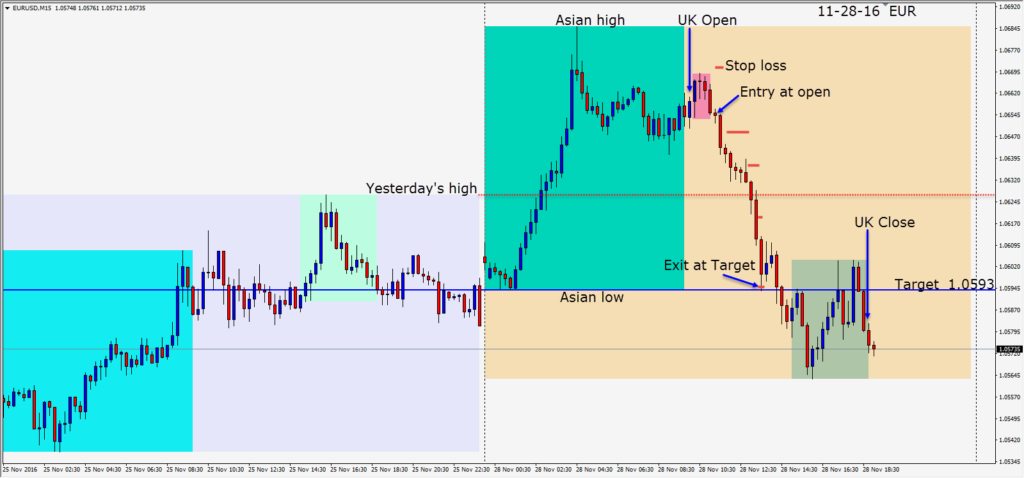 Political event risk overhangs Europe this coming weekend with Italy and Austria.  Italian 10 year bond spreads over German 10 year bunds will likely widen throughout the week.  The market will be focused on the potential for Italian bank failures.
NFP awaits us on Friday in the U.S., so it will be shortened trading week for me.
Trading Tip:  Many traders think of themselves as risk takers and what they really want is a guaranteed outcome.  This doesn't happen in trading. There are no guaranteed outcomes when you trade.  As a result, many traders hesitate to put on a trade, even when it  meets their trading plan criteria. Every trade will have risk associated with it!  To be a successful trader requires that you learn to get comfortable with taking risks and take responsibility for your trades.  Follow your trading rules consistently (if they work) and practice, practice, practice.  When a trade doesn't work out, see if can determine why it didn't…learn from it, and move on the next trade.
Good luck with your trading!