There have been numerous beautiful setups over the past 24 hours.  We can piggyback on the "risk on" trading mentality and post "Super Mario" temporary market euphoria, but we need to be very careful.  The EUR may find sellers emerging around 1.1250 next week and if not, it could run up to test 1.1375 – which would be telling.
The USDCAD was very telling today as WTI continued higher.  Despite a disappointing Canadian employment number the CAD moved with WTI strength and its ability to hold $38.
The rejection at the 1.33 figure which is very significant today, created a nice setup on the 15 minute chart.  With all the Cdn. news behind us, we entered short with a 25 pip stop loss for a potential 85 pips to our Target 2.  Price moved down vertically requiring tight and active profit stop placement along the way – as vertical moves are not sustainable and tend to reverse abruptly.  We gave price a little wiggle room at the significant levels – to retest and not to be greedy with little time left in the trading week, we exited at our T2.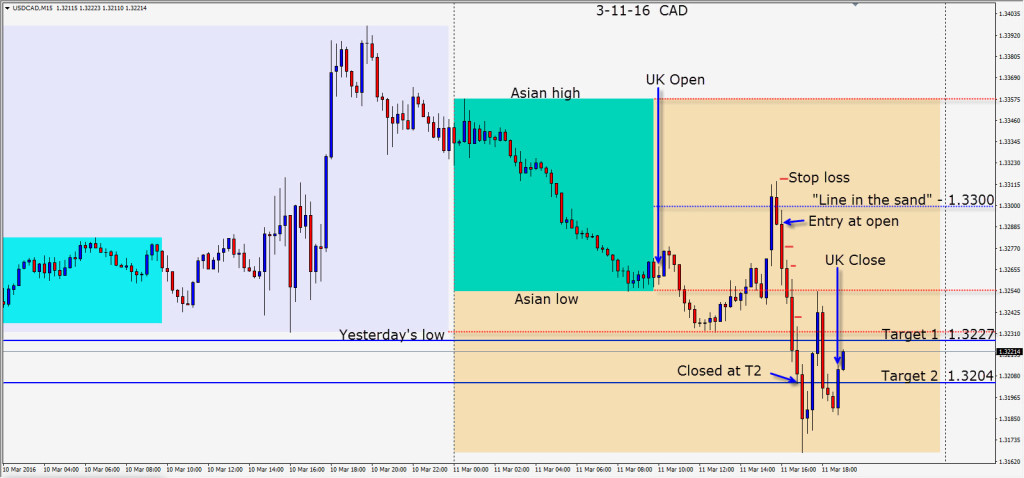 In North America the clocks move ahead 1 hour this weekend for Daylight Savings Time.  In the UK and Europe, this is still 2 weeks away.
With the currency markets being very active, it remains very important to your trading success to use sound money management!  Pick setups that are very familiar to you and requiring the best R/R.
Lots of central bank news next week.
Good luck with your trading!