On Friday after an initial selloff to begin the UK session, the EUR found a bottom and began to move up.  The pair has been in more or less a range between 1.0800 and 1.1200 for the past month.  This translates to selling near the highs and closing the positions near the lows for institutional traders.
As it climbed during the UK session it ran into sellers at the previous day's high creating a double-top.  A very bearish engulfing candle was the reversal sign needed for a short entry.  As we has a vertical move up, we hope as we enter short, that the downside move will be vertical too.  The wild card was the pending U.S. economic news releases.  We move our stop loss to plus one pip just in advance of the news and await the market's reaction. Price continued lower  and bounced creating a double-bottom for the session – leaving a longish wick where we close noting a familiar pattern completed.
Although our Targets 1 & 2 are significantly lower, we recognize that at this time of day on a Friday, chances of the 1.1100 figure being taken out today is unlikely.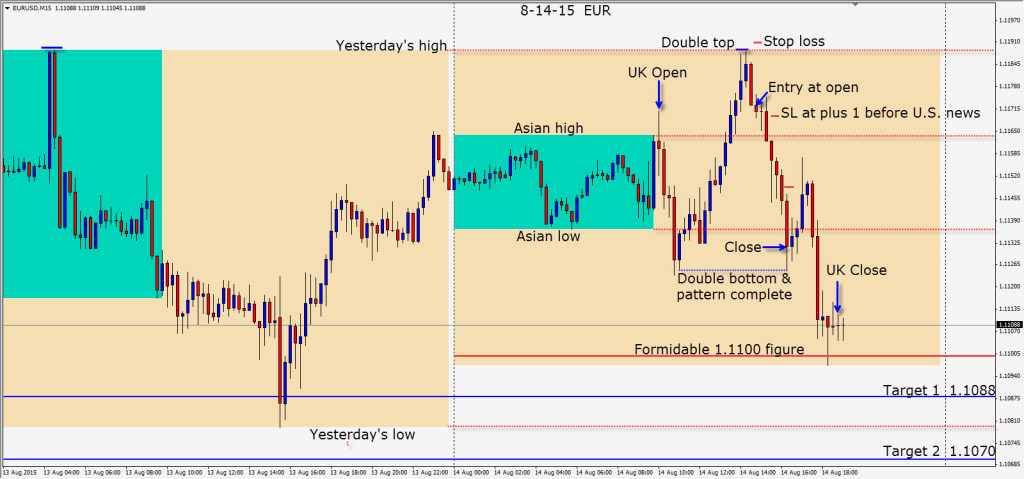 It's been nice to have the markets focus on the China story this week – something other than Greek solvency issues that have dragged on this summer.
Good luck with your trading.  Enjoy your weekend!
Back next week when we find a trade.