Although there is lots of upside potential for the USDJPY – the 124.50 – 124.60 level has been a psychological barrier.   This pair lately has been moving predictably between the figures and the 50 pip increment levels.  It finally pushed through yesterday and closed well above its resistance zone, so today we would expect it to retest it.  In trading currencies, once a significant level is broken, a patient trader will see the level retested with approximately 80% certainty.  It is after the retest that we can determine if sentiment has really changed or not.
Today the JPY was unable to gain any momentum above its Asian highs and as price began to roll over in the US session, we go short with a stop loss just above structure and look for the retest of the 124.50-60 area.  As price moves down, we move our profit stop down.  As the UK session ends we exit the trade.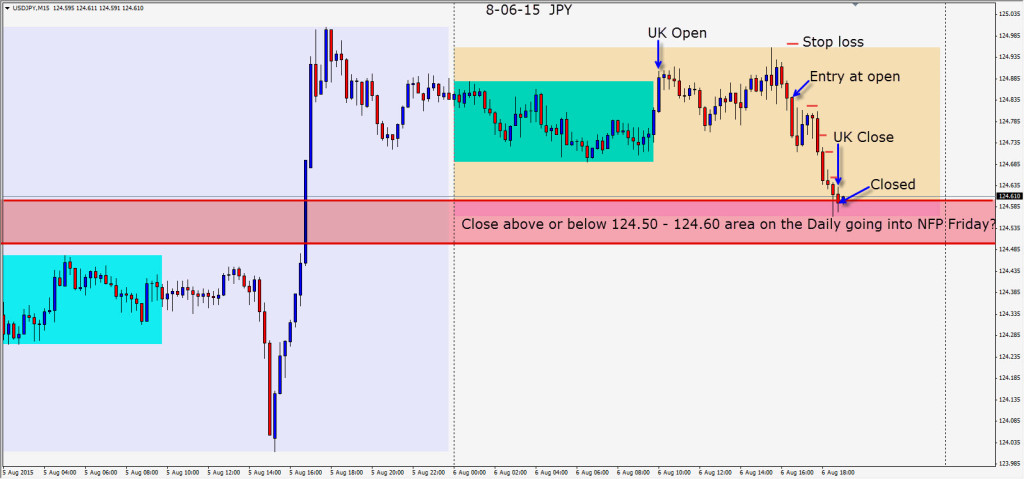 Tomorrow is NFP Friday and with lots of CAD news too…the USDCAD will likely be very volatile.  If the employment numbers are very good for the U.S. then we would expect to see the USDJPY move upward to the 125.00 figure and above next week and to test its June highs.
Good luck with your trading!
Back next week.