The GBP set up nicely for a short but found buyers below the 1.7100 figure.
As the UK traders began their session, the GBP tested the Asian session lows, then began to move upward. As wicky tops created 3 lower highs indicating that sellers were entering above 1.7143 area, we find a short entry as price comes back down to the Asian session high. With a stop placed above the session highs costing 13 pips for a potential 50 pip downside move, we enter short liking the R/R.
This is a classic candle setup coupled with a time of day when trending moves frequently set up. Price tests and retests the Asian high before gradually descending to the Asian low – completing a pattern. We expect a retest of the Asian lows before a further descent and we get it. We have systematically moved our stop loss, now profit stop downward…thereby removing any risk from the trade and assuring a successful outcome.
Although our first Target is 1.7097, we know that the current bullish GBP trend may have difficulty penetrating the 1.7100 figure. As price begins to bounce as we approach the figure, we close our trade choosing not to give back any more of our gains.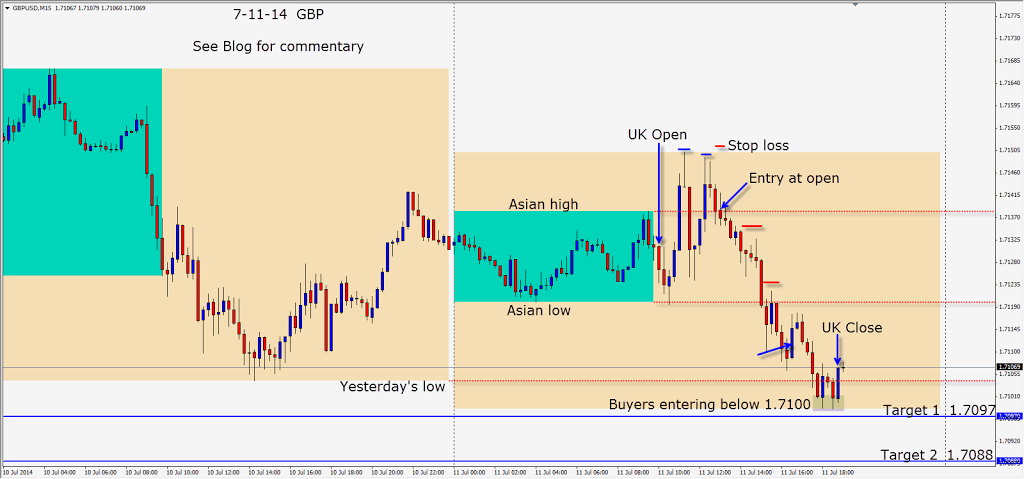 Although position traders may remain long the GBP, we have seen this week that the 1.7179 level has not been challenged and the 1 hour chart is showing some lower highs. We will see what next week brings…
Good luck with your trading!
Summer is an excellent time to relax and hone your trading skills. I have reduced the price of my course until August 30th.
If you have any trading questions about my methodology, please email me at Michael@privateforexcoaching.com
Enjoy your weekend!
Back Tuesday if we find a trade.