Governor Wheeler announced a rise in interest rates last week in New Zealand from 2.5% to 2.75% and the NZD is rising for now. As the Kiwi began to rise and move back within the Asian session area with bullish candles, an entry is found.
Placing a stop below structure we had a 3:1 Reward to Risk ratio setup to our Target 2. With a pending German ZEW release, we move our stop loss to plus 1 and await the market follow through. Price moves up incrementally and pauses at our Target 1. We give it a few pips of wiggle room and we are closed by the market at our profit stop. Price continues to rise to our Target 2 and beyond without us – oh well.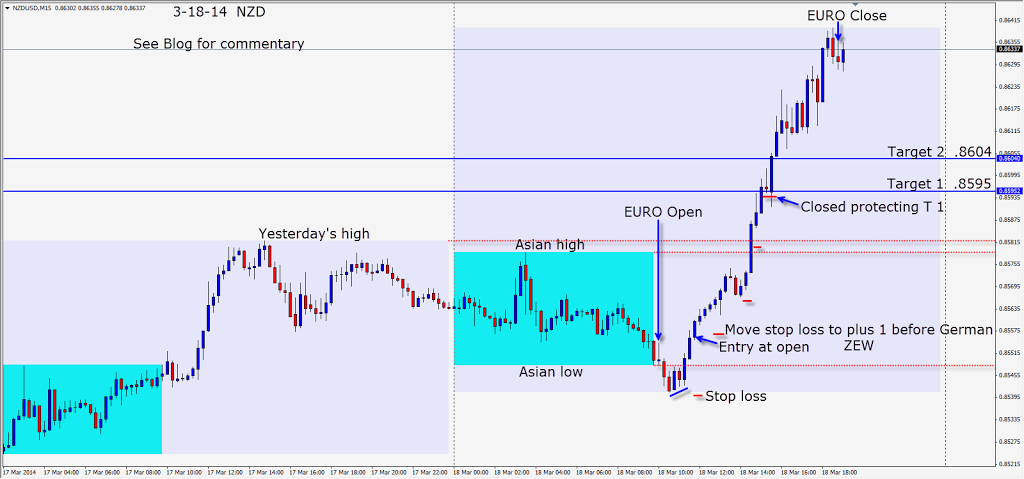 The market awaits key numbers from the UK tomorrow and traders will listen closely to Janet Yellen's speech for clues regarding the US economy going forward.
Geopolitical events although far from resolved have abated somewhat as we await the politicians next moves.
Be very cautious of the EUR at the 1.40 Big Figure. The AUD has been rising and as we approach higher valuations, remember that Governor Stevens referred to this area as being "uncomfortably high" for Australia's economy last year. The GBP too looks heavy at current valuation making the news announcements tomorrow all the more important to the market.
Good luck with your trading!
Back tomorrow if we find a trade.