Some nice setups today during the US overlap part of the session. I liked the CHF best – which required only an 8 pips stop loss for a potential 65 pips to our Target 2.
As we approached the UK session close, we exit the trade just below yesterday's low.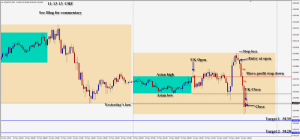 Mr. Bernanke will be speaking later today and his successor, Ms. Yellen will be speaking tomorrow.
Good luck with your trading!
Back tomorrow if we find a trade.