The AUD and NZD continue to drop. I preferred the NZD setup, but one could trade either or both pairs. There was no European news of significance and the UK news was not a big concern.
There was a quick move up at the UK open, followed by a reversal candle. This was ultimately a 3 Drives Pattern, but we close at Target 2 which was so close to yesterday's low that we anticipate the level to be tested. With the US markets getting ready to open and significant news pending, we are happy to be done.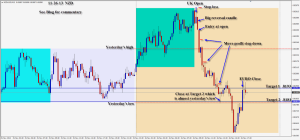 Get the risk out of your trades as soon as is prudent to do so. Once you lock-in profit, the trade becomes stress-free. Don't be greedy…be systematic.
Good luck with your trading!
Back tomorrow if we find a trade.