The EUR moved down – the CHF moved up and there was no NFP Employment number pending to keep us on the sidelines.
As the EUR began to drop, we see a setup in the CHF giving us a 3:1 Reward to Risk ratio to our Target 2. Allowing for a retest of the Asian session high, we place a stop just below it. Price goes sideways for an hour before it begins to climb and test yesterday's high. This level corresponded with our Target 1. As price retests our Target 1, we close the trade to finish the week.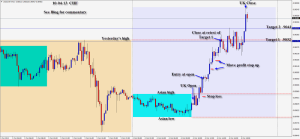 Tip 1: Use small stops and get the risk out of the trade as soon as possible to protect your gains in the event of a sudden reversal – particularly in advance of the US Open or pending major economic news releases.
Tip 2: If you use Forex Factory for news times, be aware that some news releases occur 10 minutes in advance of the posted time on Forex Factory. This means the institutional traders have already seen the number on their Bloomberg terminals. Always protect yourself in advance of major news releases, as 50+ pip candles are not uncommon at such times. Institutional traders like to stop out retail traders. The huge institutional traders – like hedge funds, like to stop out smaller institutional traders. Salmon eat herring. Seals eat salmon. Whales eat seals.
Enjoy your weekend!
Back Tuesday if we find a trade.