A long lackluster session with a very late EUR trade setting up. The EUR attempted to get above the Asian session high but was unable to stay there. It finally pushed hard above – well into the US session with all the economic news behind us. A stop loss under structure enabled us to have a better than 2:1 Reward to Risk ratio… which is our minimum once the US session is underway.
As price moved up we locked in profit and eliminated any risk in the trade. With very little time left in our trading day, we progressively moved our profit stop higher. Price missesd our Target 1 by a pip. We tighten our profit stop allowing a bit of wiggle room, hoping for a final push higher before the UK session ends. Price came down and we are closed out for modest gains.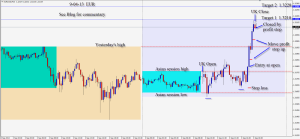 Trading ranges have been quite tight recently, but we anticipate they will increase as September moves on.
Good luck with your trading! Be patient, disciplined, exercise sound money management and keep your stops tight.
Back tomorrow if we find a trade.