NZD moves higher in the US session as traders go long above yesterday's high. The Kiwi set up nicely making a series of higher lows. We are willing to accept a 2:1 Reward to Risk to our Target 2 once the US session begins. We look for a 3:1 or better R/R during the early UK part of the session… before the US traders are active. Once the US session is underway this becomes a 2:1 R/R because we only have 4 hours left.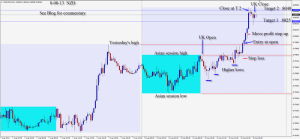 It is never a good idea to be greedy in trading and we exit at our Target 2 level.
Good luck with your trading and always be very selective in choosing your setups.
Back tomorrow if we find a trade.