To trade or not to trade in advance of the FOMC meeting minutes?
The NZD has been trending down all week and after rising in the second hour of the UK trading session, it could not stay above the Aug 13th low. As it tried, sellers entered and the previous hour's range is completely taken out by a bearish candle. This was an attractive setup and met our minimum Reward to Risk ratio of 3:1 to our Target 2. Price dropped and the trade was closed in advance of the US Existing Home Sales number… as price went through Target 2.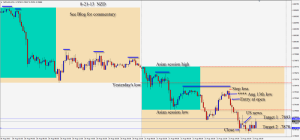 FOMC meeting minutes will be out shortly and the trading is likely to become active for the remainder of the week, as there is significant economic news pending each day.
Good luck with your trading!
Back tomorrow if we find a trade.