The EURGBP set up nicely for us and produced a favourite reoccurring pattern that we look for while in a trade. After putting in a wicky candle low, we patiently awaited further signs that price would move up. With a very affordable stop loss, we enter the trade and vigilantly watch price as it reacts to each of the levels marked on the chart. Price continues upward before finally stalling at the Asian session highs. We are taken out as it dips below the Asian session high. A trade on this pair is currently worth approximately 1.53 pips compared to a USD cross – so we are happy with the outcome which completes this subdued trading week.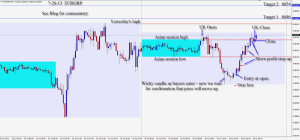 I hope your trading week was both enjoyable and profitable!
Back Tuesday if we find a trade.
Enjoy your weekend!
For more Tips and Tricks contact me regarding my course – Michael@privateforexcoaching.com