Another very light economic news session with a mild USD weakness tone so far this week – hence the gold talk. The UK traders moved the CHF up and the US traders bring it right back down. We were hoping for a larger move either direction, but with little news so far this week, it didn't happen.
As the US traders start to bring the CHF down, an entry is taken when normally there would be lots of US economic news. The stop loss is relatively inexpensive at 13 pips and with our Target 2, 80 pips away, it is hard to resist this trade. However buyers enter a significant technical level in advance of the Asian session low and we exit.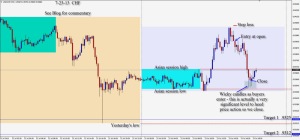 Good luck with your trading!
Back tomorrow if we find a trade.