Modest gains in CHF before Mr. Bernanke's speech today. The key here was to find a comfortable trade setup, keep the stops tight and get out (to be conservative) before Mr. Bernanke's speech – which can cause enormous volatility. The CHF began to move up with its inverse…the EUR moving down at exactly the same time…confirming the trade. The long on the CHF required a 15 pip stop loss and in retrospect the EUR was the better trade opportunity.
The Asian session high appeared daunting for price to close above until the positive US economic news numbers pushed it above. Not wanting to give back any more pips than we have to, we close the trade in advance of Mr. Bernanke's impact.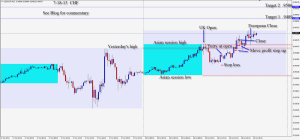 Good luck with your trading!
Always be aware of pending news and keep your stops tight.
Back tomorrow if we can find a trade.