AUD moves down once the US traders begin their session. Very little economic news in advance of Mr. Bernanke speaking and the FOMC minutes due out shortly. This will have the potential for extreme volatility.
The AUD put in 2 lower highs early in the first half of the session and proceeded downward. A modest ranging session until the US traders joined in.
A trade short with a greater than 3:1 Reward to Risk ratio to our Target 2 is found. This is very attractive at this time of day. Once we see a wicky candle form, we tighten our profit stop and as price begins to find buyers, we exit the trade to lock in our profits.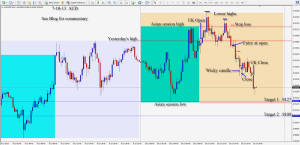 Always be aware of the news and session changes when you're trading!
Good luck with your trades!
Back tomorrow if we find a trade.