Walking away from a beautiful setup is hard to do! Walking away from a setup that doesn't meet one's Reward to Risk ratio requires discipline. Without discipline a trader will flounder, lose both consistency and confidence.
This beautiful setup required approximately a 25 pip stop loss to ideally net 54 pips. This did not meet our 3:1 Reward to Risk ratio minimum. It is always better to come back tomorrow than to break one's rules and get stopped out.
I was taught by the largest currency trader in the world how to trade. He is also one of the largest commodity traders in the world. He will pass on a trade that is 2.9:1 Reward to Risk – that's 2 point 9 to 1. That lesson is always foremost in my mind before I take a trade and ingrained in my students.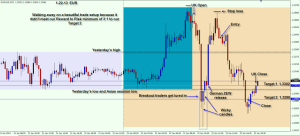 Back tomorrow.
Good luck with your trading.
Questions??? Michael@privateforexcoaching.com