Late in the session we catch a nice move to finish the week. A lot of patience is required to be a successful trader. We patiently wait for our familiar setups to present themselves and some days there aren't any. Last night our patience was rewarded.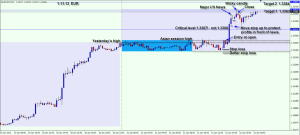 (I forgot to mark the UK open and close on the chart today. The UK open is the first candle after the blue channel. We were out of the trade just as the US stock markets opened.)
A very bullish candle moved price up after the Asian session low was tested. Although the candle closed right near the Asian session high, and a test retest of that level frequently occurs, the stop was still affordable and met our 3:1 Reward to Risk minimum to our Target 2. Price moved well above the Asian session high and right through the critical level of 1.3307. This allowed us to lock in profits in advance of the US Trade Balance release. When you have profits, protect them. If there is news pending, and the market reverses you can lose them…in a blink. Always protect your profits and get the risk out of your trades as soon as possible.
After the entry, had price continued to test and retest the Asian session high as the News approached, it would have been better to take a small loss than risk a spike down to our original stop loss. Fortunately price moved up in advance and the profits were locked in. Price continued to our Target 1 but closed with a very wicky candle below it. We close the trade the next candle so as not to give back pips after Target 1 has been achieved.
Overall a nice conclusion to the week, after remaining out of the market yesterday.
Have a great weekend!
Good luck with your trading.
Back Tuesday…
Questions Michael@privateforexcoaching.com