Happy New Year!
The EUR looked like a nice trade setup over night. The Asian session high was a very significant test. (Hint)
The UK traders did not retest the Asian session high and once news was out of the way the EUR set up nicely for a move to the downside.
Our entry allowed us an affordable stop just above the wicky candles earlier in the session. This met our minimum criteria of 3:1 Reward to Risk to our Target 2 level. Price moved promptly downward not retesting the Asian session low. When price started to retrace, with over 30 pips of profit, we closed the trade to protect our profits.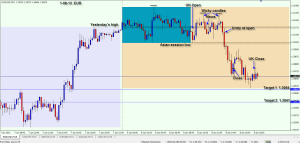 Be very aware of significant levels from last year and watch how price reacts to them.
I hope everyone has a very profitable year!
Good luck with your trading.
Questions??? Michael@privateforexcoaching.com