Both the EUR and GBP looked good overnight. I preferred the GBP as the setup was clearer to my eyes. The UK traders pushed price above the Asian session high, luring in breakout longs. Price pulled down, went up one more candle, followed by a very wicky candle and a lower high… which forecast the set up of the reversal short.
The Reward to Risk was better than 4:1 to our Target 2 level. Although we never made it to Target 1, we are happy locking in 35 pips of profit with any trade.
Be very aware of last year's levels as the pairs are testing them and will continue to do so. These are easily seen on a Daily chart. Keep your stops tight and lock in profit as your trade progresses. Reversal are fast and furious at times, so always lock in some profits and keep moving your "take profit" level in the direction of your trade as it progresses. Remove the risk by moving your stop loss as soon as is prudent to do so and keep protecting your profits while you are in the move.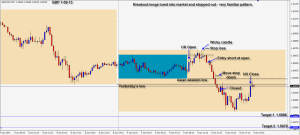 Good luck with your trading!
Send any questions to Michael@privateforexcoaching.com