The EUR has been trading a greater range than the other majors lately. When trading the EUR make sure to look at the CHF for an inverse move confirmation. I prefer trading the EUR but either is fine. The EUR typically offers the smallest spread of the majors.
ECB President Draghi's awaited speech seemed to have the EUR trading in both directions. It is not uncommon at all for a currency to trend one direction in the UK session and reverse when the American traders come on-line.
This trade worked out very well, but note how important the Asian session high and low was to price action. If you miss an entry, you usually get a second chance as price will retest a session high or low or the previous day's high or low. Always be aware of these recent levels.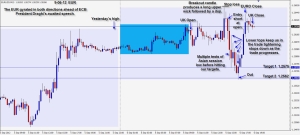 Tomorrow is Non-Farm Payroll in the US. I do not trade in advance of this – so I will be back Tuesday.
Although brokers make a big deal about Non-Farm Payroll – it is best to avoid trading it!
Next week is likely to be active with much greater volumes and larger ranges once again.
Enjoy your weekend.