A frustrating UK session ends the week. Rules are hugely important in trading! Plan your trades and trade your plan…as they say. Some sessions will result in high probability trades and some won't. Once you know what to look for and take only those trades, your success and consistency goes way up! Don't take trades that don't meet your criteria. If they don't meet your criteria, they are low probability trades or 50-50 at best – save your money and wait for your trade setup to occur. Discipline and patience are extremely important to your trading success!!!
The CHF looked liked it was going to drop last night. I liked the look of it, but I couldn't find an entry.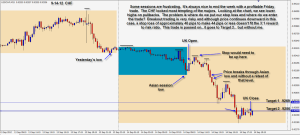 Let's see what next week brings us.
Enjoy your weekend.
Back on Tuesday.