Not a lot of news overnight, but the lower highs on the GBP had us looking for the opportunity to go short.
With an affordable stop just above the plunging bearish hammer, we enter short at the opening of the next candle. The reward to risk to our Target 2 is 4:1 easily meeting our criteria minimum of 3:1. Price chops sideways for over an hour attempting to stay below yesterday's low. Once price moves convincingly toward our targets, we move our "stop loss" to a "take profit" locking in 15 pips, then 30 pips, and are subsequently closed by the market for 30 pips.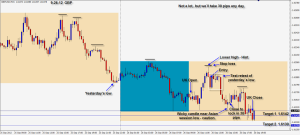 Always remember to move your stops down and lock in profits. It's always a nice feeling to be in a positive trade with no risk…what is also known as a "stress-free" trade.
Let's see what tomorrow brings.
Good luck with your trading!