Nothing too exciting overnight as vacation time is keeping volumes lower than normal and ranges tighter than normal. The GBP was too difficult to enter but the AUD produced a viable setup. We didn't hit either target but a few pips were offered up with a reasonably low risk trade. The commodity currencies AUD and CAD have been quite quiet lately.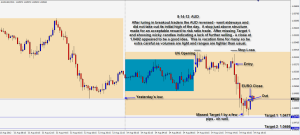 Let's see what tomorrow brings us.
Questions welcomed! Email Michael@privateforexcoaching.com
Be cautious trading and be willing to accept what the market offers each day. Don't be greedy!