We're off to a nice beginning this week. The GBP made it to target one, but then began to roll over and reversed back down. Remember… about 20% of the time breakout traders will catch a break and not have their stops hit. On such occasions, after the breakout level is retested and never before it's retested, look for an entry allowing a tight stop and a reward to risk ratio of 3:1 or higher. Never take 1:1 trades – it's not trading in my opinion – it's gambling.
The GBP continues to give the clearest signals and greatest range of the majors at this time. It is my favourite pair to trade. Let's see what the rest of the week brings us. Despite this being the dog days of summer, the trading has been very good for those that are patient and disciplined.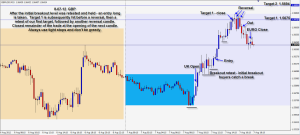 Good luck with your trading!
Email questions to Michael@privateforexcoaching.com